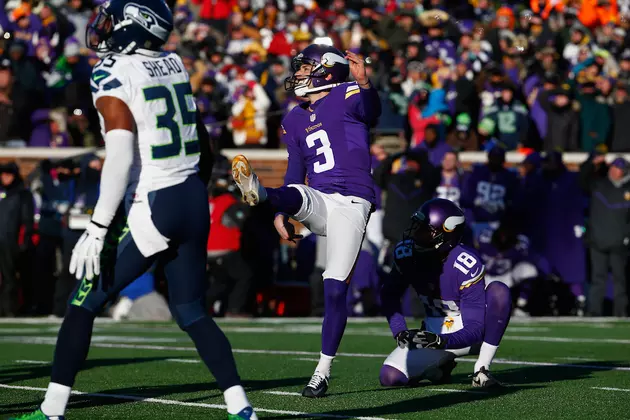 Football is a Lesson in Living
Old wounds. Getty Images
Next week is another opportunity for things to go horribly wrong
For as far back as I can remember I've been a football fan.  I've got split loyalties (same with hockey and baseball).  My teams have abused me for decades.  This season I haven't watched much pro-football.  I've got no patience for flag and anthem protests.  What little I've seen involves the Minnesota Vikings.  Not one player took a knee or seat during the national anthem this year.  The team is one of my two lifelong favorites.  It has been this was since the great Fran Tarkenton played for Minnesota (twice).
For health reasons I can't any longer watch close games and when I do my language is worse than anything the president purportedly said.  I had been tuned away from the Vikings game for most of the second half as once again the outfit was tearing out my heart.
Eventually I checked in and the Saints had the lead with 25 seconds remaining.  The remote was beside me and I turned off the TV and went to bed. When I was a little boy and the Vikings and Bills would lose a heartbreaker I would often go to sleep at 4:00 P.M., Sunday afternoons.  It dulled the pain.
This past Sunday night my dreams were terrible.  Finally I got out of bed just before three o'clock and fed the cats.  Then I opened my email.  The first message was from Yahoo News.  When I clicked open, Case Keenum was smiling back at me.  Revelation!!!
I've watched the winning play some 15 times.  Even the noise on video is deafening.  I've been in noisy stadiums and arenas (even the smaller stadium in Boise can make you deaf) and this sound was unique.
Again, not one member of the Vikings this year disrespected the flag or anthem. In a post-game interview on the field, Stefon Diggs praised God and then cried.  I wanted to give him a hug and say, "Son, you've done well!"
I suppose this won't last.  Next week is another opportunity for things to go horribly wrong.  Those who remember Buffalo's comeback versus Houston a quarter-century ago know the eventual outcome was unpleasant for the Bills.  Football teaches us whether playing or watching a lesson that life is filled with pain.  But, for a moment…
At work today even the non-football fans talked about the final play.  On the way home I stopped at a store and the staff (there are a lot of Minnesota fans in Idaho) all wanted to talk about the game.  Maybe it was my purple costume!
My memory keeps me grounded.  The Vikings lost in similar fashion 42 years ago.  I watched the game at my Uncle Paul's house.  Dallas came away with the late victory.  My cousin, Mike, was a fan of the Cowboys.  He taught me a lot about sportsmanship as he consoled me over the loss.  We've all been there in sports and in life.  For a few days all is aglow.  It makes life worth living.