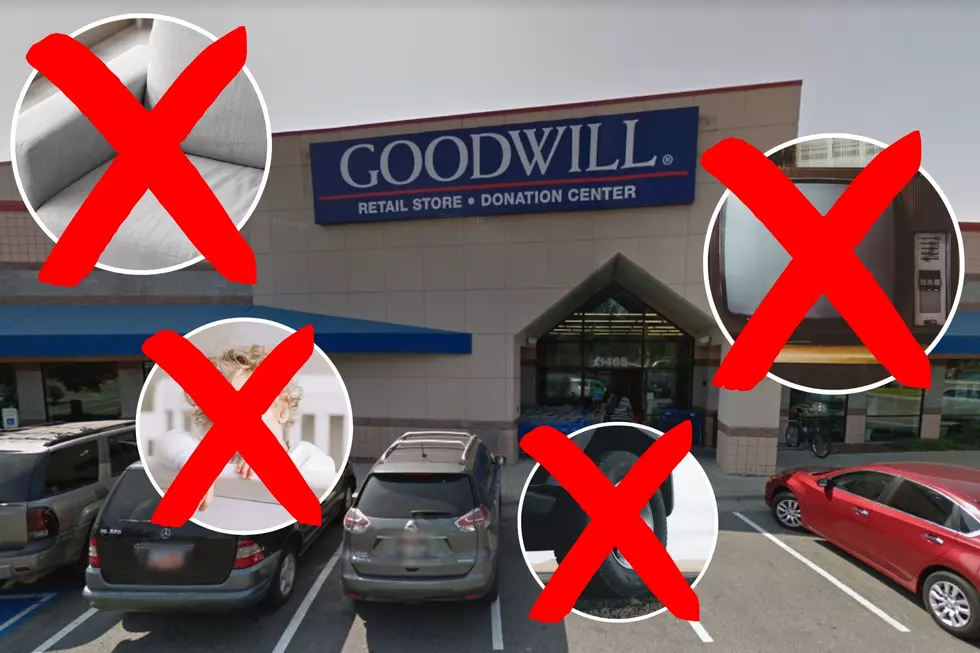 Idaho Goodwill Stores Will Not Accept These 27 Items
Google Maps/Canva
Do you feel like the walls in your home are starting to close in around you because you have so much "stuff" you're not using? 
Whether you're motivated by a move or simply have the urge to declutter, you've got a few options to make that stuff go away. You could have a garage sale (or come sell it at Idaho's Largest Garage Sale in May.) 
You could throw it out. We feel bad admitting this, but we did a lot of that when we were pressured into an unplanned move by the apartment complex we'd called home for eight years. 
Or you could give it to a charity that is going to find a way to make a difference with your unwanted items one way or another. 
What Does Goodwill Do With Your "Junk?"
One of those non-profits is Goodwill. The stores and donation centers in the Treasure Valley and across Idaho are part of Easterseals-Goodwill Northern Rocky Mountain.  According to their community impact sheet for Idaho, they helped 1,080 Idahoans with disabilities and disadvantages gain work experience and job training at their stores in 2021. Experiences like that set these individuals up to live more independently.  
Shopping at one of their thrift stores also helps Easterseals-Goodwill fund two incredible programs they offer in the Gem State. In Idaho, they offer Behavioral Heath Services to help adults, teens and families with mental health and addiction treatment programs. 274 Idahoans received therapy through that program in 2021. 
They also have a Senior Community Service Employment program that helps low-income adults 55 and older get paid, hands-on job training at one of their host agencies with the goal of helping them re-enter the workforce. They'll also help you freshen up your resume, work on interviewing skills and assist in the job search.
It's pretty cool to know that your unwanted stuff is helping make a difference like that right here in Idaho, isn't it?
Goodwill Can't Work Magic With All of Your Stuff
According to Eastersealds-Goodwill Northern Rocky Mountain's FAQ page, if they can't sell what you've donated they'll try to recycle them into something else like industrial cleaning wipes. 
That said, there are certain things they just can't take off your hands for safety or disposal issues so if you have any of these items you're trying to get rid of save yourself the time. Goodwill won't accept them. 
Goodwill has stores in Boise, Meridian and Nampa. 
Idaho Goodwill Stores Will Not Accept These 27 Items
KEEP READING: 10 Fun or Helpful Facebook Groups in Boise Everyone Should Check Out
There are Facebook groups for all kinds of hobbies, interests and communities. These are 10 that our listeners say are worth joining!
The Unbelievable Items In The Boise Airport Lost And Found
Listed in order of most common to least common, but weird!