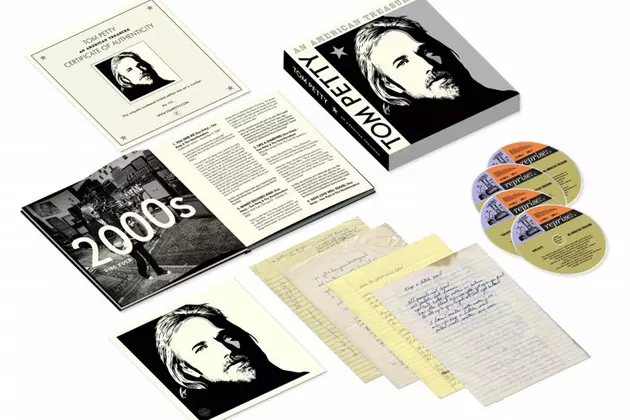 Full Details of Tom Petty's 'An American Treasure' Revealed
Reprise
The full details of the new Tom Petty box set, An American Treasure, have been revealed, along with the collection's first single and video, "Keep a Little Soul."
Sketches of the set surfaced yesterday, including word that the 60-song box -- which comes out on Sept. 28 -- would include previously unreleased live and studio recordings. The news was teased after a countdown clock appeared on Petty's website. Petty's SiriuisXM station unveiled the title and release date, and debuted "Keep a Little Soul," which was recorded in 1982.
You can watch the video for the song below.
Compiled by Petty's widow Dana, daughter Adria, his two longest serving bandmates — guitarist Mike Campbell and keyboardist Benmont Tench — and longtime engineer Ryan Ulyate, An American Treasure consists of 60 tracks across four CDs, plus a 52-page booklet containing rare and previously unpublished photographs of Petty and his bandmates, family and friends. The booklet also features detailed, track-by-track liner notes by journalist Bud Scoppa, who drew upon previous interviews with Petty and new conversations with Campbell, Tench and Ulyate, as well as Adria and Dana Petty.
In addition to the four-CD set, there will also be an abridged two-CD set, a "Super-Deluxe" four-CD box set and a six-LP vinyl collection (available on Nov. 23), as well as standard and deluxe digital downloads. Pre-orders are available at Petty's website.
Each CD in An American Treasure is devoted to a specific decade in Petty's career, with a mix of album tracks, outtakes, alternate takes, B-sides and live material. All newly released recordings have been mixed by Ulyate from pristine transfers of the original studio multi-track masters. All 60 recordings have been remastered for the collection by Chris Bellman at Bernie Grundman Mastering. Artwork for the set was created by artist Shepard Fairey from an image of Petty by photographer Mark Seliger.
Of particular note in the An American Treasure track listing are cuts from Petty's 1994 solo album Wildflowers, which was said to be the subject of an archival project Petty was preparing for at the time of his death. Petty had conceived the record as a double album, and as early as 2014, it was reported that an album called Wildflowers: All the Rest would feature songs Petty had cut from the released LP to pare it back to a single album. He also had hopes of mounting a Wildflowers-centered tour, with the intention of recreating the rich sound of the album onstage.
Of the five Wildflowers tracks included on An American Treasure, only three are previously unreleased, leaving fans to wonder whether Petty's survivors might revisit an expanded project at some future time.
"Keep a Little Soul" is an outtake from the sessions for 1982's Long After Dark and bears the hallmarks of the Heartbreakers in that era — jangling guitars, steady backbeat (courtesy of original Heartbreakers drummer, Stan Lynch), a touch of organ, and Petty's familiar drawl. The refrain — "Keep a little soul and nothing really matters anymore" — oozes attitude.
You can see the entire track listing below.
Tom Petty, 'An American Treasure' Track Listing
CD 1
"Surrender" (Previously unreleased track from Tom Petty and the Heartbreakers sessions—1976)
"Listen to Her Heart" (Live at Capitol Studios, Hollywood, CA—November 11, 1977)
"Anything That's Rock 'N' Roll" (Live at Capitol Studios, Hollywood, CA—November 11, 1977)
"When The Time Comes" (Album track from You're Gonna Get It!—May 2, 1978)
You're Gonna Get It (Alternate version featuring strings from You're Gonna Get It! sessions—1978)
Radio Promotion Spot (1977)
"Rockin' Around (With You)" (Album track from Tom Petty and the Heartbreakers —November 9, 1976)
"Fooled Again (I Don't Like It)" (Alternate version from Tom Petty and the Heartbreakers—1976)
"Breakdown" (Live at Capitol Studios, Hollywood, CA—November 11, 1977)
"The Wild One, Forever" (Album track from Tom Petty and the Heartbreakers—November 9, 1976)
"No Second Thoughts" (Album track from You're Gonna Get It!—May 2, 1978)
"Here Comes My Girl" (Alternate version from Damn The Torpedoes sessions—1979)
"What Are You Doing in My Life" (Alternate version from Damn The Torpedoes sessions—1979)
"Louisiana Rain" (Alternate version from Damn The Torpedoes sessions—1979)
"Lost in Your Eyes" (Previously unreleased single from Mudcrutch sessions—1974)
CD 2
"Keep a Little Soul" (Previously unreleased track from Long After Dark sessions—1982)
"Even the Losers" (Live at Rochester Community War Memorial, Rochester, NY—1989)
"Keeping Me Alive" (Previously unreleased track from Long After Dark sessions—1982)
"Don't Treat Me Like a Stranger" (B-side to UK single of "I Won't Back Down"—April, 1989)
"The Apartment Song" (Demo recording with Stevie Nicks—1984)
Concert Intro (Live introduction by Kareem Abdul-Jabbar, The Forum, Inglewood, CA—June 28, 1981)
"King's Road" (Live at The Forum, Inglewood, CA—June 28, 1981)
Clear the Aisles (Live concert announcement by Tom Petty, The Forum, Inglewood, CA—June 28, 1981)
"A Woman in Love (It's Not Me)" (Live at The Forum, Inglewood, CA—June 28, 1981)
"Straight into Darkness" (Alternate version from The Record Plant, Hollywood, CA—May 5, 1982)
"You Can Still Change Your Mind" (Album track from Hard Promises—May 5, 1981)
"Rebels" (Alternate version from Southern Accents sessions—1985)
"Deliver Me" (Alternate version from Long After Dark sessions—1982)
"Alright for Now" (Album track from Full Moon Fever—April 24, 1989)
"The Damage You've Done" (Alternate version from Let Me Up (I've Had Enough) sessions—1987)
"The Best of Everything" (Alternate version from Southern Accents sessions—March 26, 1985)
"Walkin' from the Fire" (Previously unreleased track from Southern Accents sessions—March 1, 1984)
"King of the Hill" (Early take with Roger McGuinn—November 23, 1987)
CD 3
"I Won't Back Down" (Live at The Fillmore, San Francisco, CA—February 4, 1997)
"Gainesville" (Previously unreleased track from Echo sessions—February 12, 1998)
"You and I Will Meet Again" (Album track from Into The Great Wide Open—July 2, 1991)
"Into the Great Wide Open" (Live at Oakland-Alameda County Coliseum Arena—November 24, 1991)
"Two Gunslingers" (Live at The Beacon Theatre, New York, NY—May 25, 2013)
"Lonesome Dave" (Previously unreleased track from Wildflowers sessions—July 23, 1993)
"To Find a Friend" (Album track from Wildflowers—November 1, 1994)
"Crawling Back to You" (Album track from Wildflowers—November 1, 1994)
"Wake Up Time" (Previously unreleased track from early Wildflowers sessions—August 12, 1992)
"Grew Up Fast" (Album track from Songs and Music from 'She's the One'—August 6, 1996)
"I Don't Belong" (Previously unreleased track from Echo sessions—December 3, 1998)
"Accused of Love" (Album track from Echo—April 13, 1999)
"Lonesome Sundown" (Album track from Echo—April 13, 1999)
"Don't Fade on Me" (Previously unreleased track from Wildflowers sessions—April 20, 1994)
CD 4
"You and Me" (Clubhouse version—November 9, 2007)
"Have Love Will Travel" (Album track from The Last DJ—October 8, 2002)
"Money Becomes King" (Album track from The Last DJ—October 8, 2002)
"Bus to Tampa Bay" (Previously unreleased track from Hypnotic Eye sessions—August 11, 2011)
"Saving Grace" (Live at Malibu Performing Arts Center, Malibu, CA—June 16, 2006)
"Down South" (Album track from Highway Companion—July 25, 2006)
"Southern Accents" (Live at Stephen C. O'Connell Center, Gainesville, FL—September 21, 2006)
"Insider" (Live with Stevie Nicks at O'Connell Center, Gainesville, FL—September 21, 2006)
"Two Men Talking" (Previously unreleased track from Hypnotic Eye sessions—November 16, 2012)
"Fault Lines" (Album track from Hypnotic Eye—July 29, 2014)
"Sins of My Youth" (Early take from Hypnotic Eye sessions—November 12, 2012)
"Good Enough" (Alternate version from Mojo sessions—2012)
"Something Good Coming" (Album track from Mojo—July 15, 2010)
"Save Your Water" (Album track from Mudcrutch 2—May 20, 2016)
"Like a Diamond" (Alternate version from The Last DJ sessions—2002)
"Hungry No More" (Live at House of Blues, Boston, MA—June 15, 2016)
Tom Petty Through the Years: 1976-2017 Photos