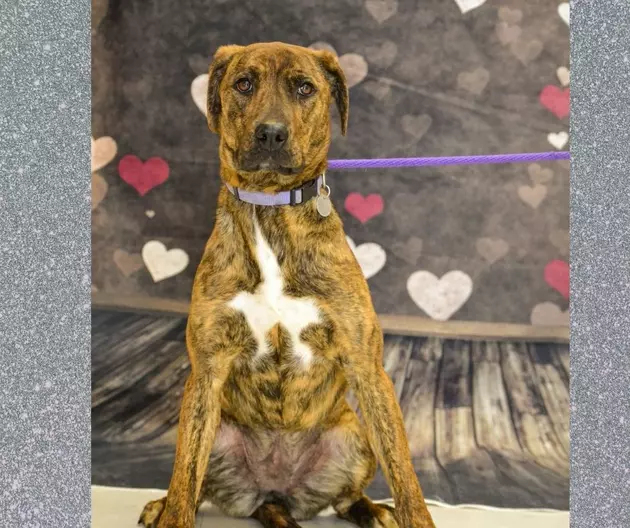 Twin Falls Pup Watches 229 Others Get Adopted Waiting For Her Own
Twin Falls Animal Shelter
The Twin Falls Animal Shelter shared the story of one pup that has been at the shelter for over two months. The beautiful dog is really looking for her forever home, 229 other pets have been adopted before her. 
According to the Twin Falls Animal Shelter, this pup Joy was surrendered on November 27th and has spent the last two months in her kennel waiting for someone to adopt her. Joy is a beautiful brindle color. If you ask me she looks a bit like a pitbull lab mix of some sort. She has a white spot on her chest that almost looks like a chicken.
According to the Twin Falls Animal Shelter, Joy is a bit timid with people at first, even though she really loves them. She does not do well with cats and small animals like ducks and chickens. Apparently, at one point she decided to have a duck for a snack. I don't blame her, duck is delicious.
The shelter also said she is good with respectful children and would play with dogs her size. She looks like the perfect dog to take on adventures with you. I bet she would love hunting and camping if you trained her properly.
Two months is a long time for a poor dog to sit in a kennel and watch others get adopted. If you have room in your home and your heart, Joy would love to fill it.
RANKED: Here Are the 63 Smartest Dog Breeds
Does your loyal pup's breed make the list? Read on to see if you'll be bragging to the neighbors about your dog's intellectual prowess the next time you take your fur baby out for a walk. Don't worry: Even if your dog's breed doesn't land on the list, that doesn't mean he's not a good boy--some traits simply can't be measured.
LOOK: The least obedient dog breeds
LOOK: Here Are 30 Foods That Are Poisonous to Dogs
To prepare yourself for a potential incident, always keep your vet's phone number handy, along with an after-hours clinic you can call in an emergency. The ASPCA Animal Poison Control Center also has a hotline you can call at (888) 426-4435 for advice.
Even with all of these resources, however, the best cure for food poisoning is preventing it in the first place. To give you an idea of what human foods can be dangerous, Stacker has put together a slideshow of 30 common foods to avoid. Take a look to see if there are any that surprise you.
WATCH OUT: These are the deadliest animals in the world