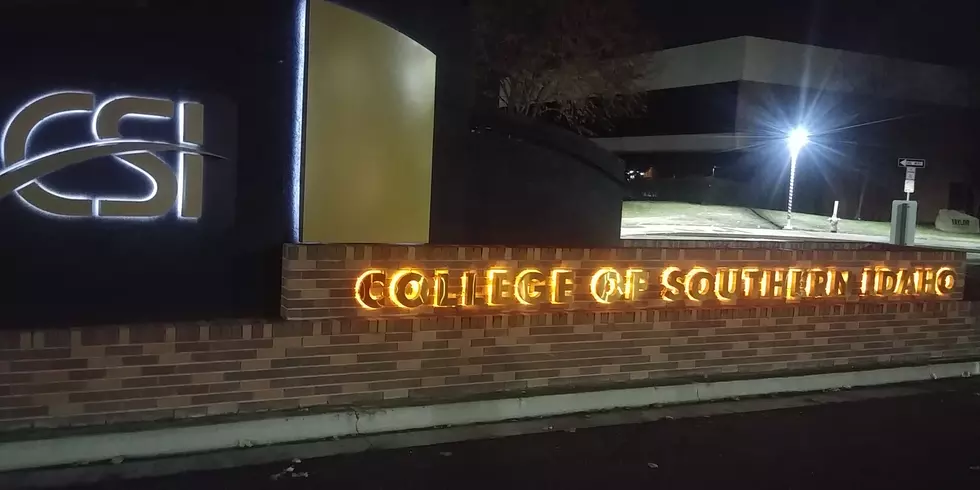 Idaho Announcer Fired Over Spurious Claim of Racism
CSI Entrance At Night credit N8
When did thugs become a bad word?  This is a question I saw multiple times over the weekend.  It comes in response to the voice of men's basketball being sacked by the College of Southern Idaho.  Jonathan Drew has a very, very long tenure behind the microphone.  This means that until late last week, CSI was happy with his performance.  During a Wednesday night game against highly ranked Salt Lake City Community College, he referred to some Salt Lake City players as thugs.  This after what appeared to many in the gym was a flagrant foul against a member of the CSI club.
I've seen guys ejected for similar infractions.
A day later, Drew's microphone was yanked.
This is a Media Driven Witch-hunt
A reporter at Channel 13 in Salt Lake City defined thugs as a racial slur.  As if it's a non-debatable fact.  The next question could be how long has the word been a slur?
Since the spring of 2015.  There were riots in Baltimore, Maryland.  After initially saying criminals should be allowed to blow off steam, Mayor Stephanie Rawlings-Blake then called some of the angry people in the streets thugs.  Cue the outrage machine.  The liberal news media and its fellow travelers in academia suddenly decided it was a naughty word.
Never mind the irony Mayor Blake was and remains a black woman.  She also served a long stretch as co-chair of the Democrat National Committee.  The media wants you to know the people you saw on TV looting and burning were aggrieved persons (unlike racist and misogynist truck drivers).  For the same reason, you can't call the mobs (is mob still allowed) looting and burning following George Floyd's death by the name thugs.  Never mind that none of these garden parties were exclusively filled with people of color.
College Folded as Woke Mob Came Calling
Jonathan Drew now finds himself marked during any Google search and he probably still carries a large mortgage and needs to feed himself.  The liberals really don't care.  They're satiated for a few more days with their latest scalp.
You also saw a complete lack of courage at CSI.  Apparently, there wasn't any deliberation.  Drew had to go to appease the outrage machine.
10 Commandments Of Winter In idaho
When winter rolls through Idaho there are a new set of rules that we need to abide by to prove that we are indeed good people.
Tiny House For Sale In Southern Idaho With Big Price Tag
If living space isn't a big deal, but you want property - this could be the right place for you.