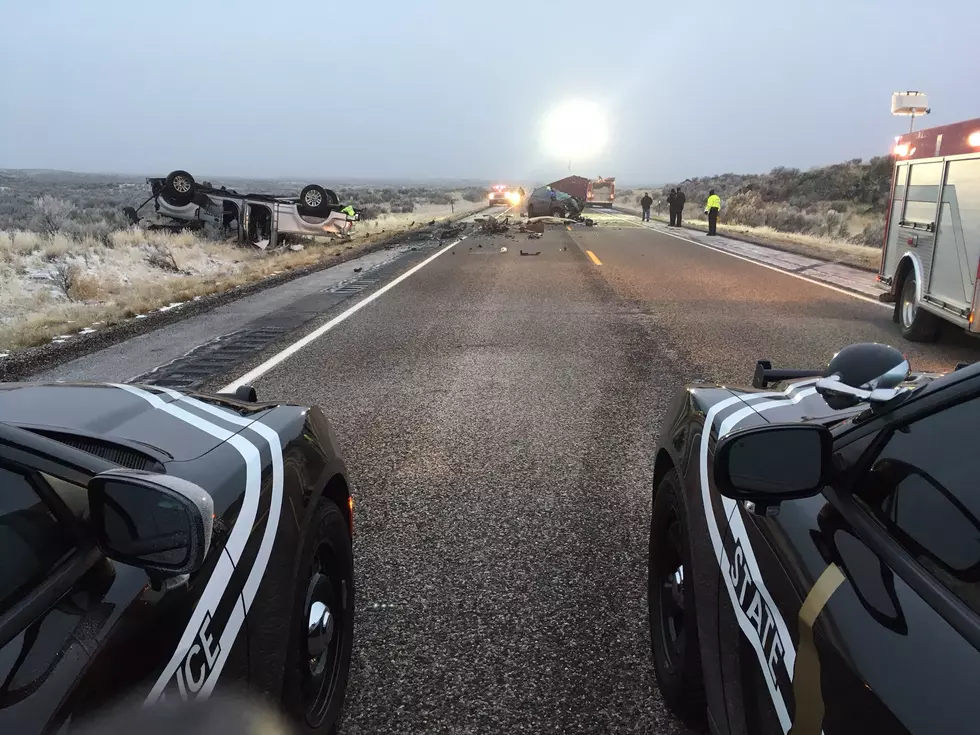 4 Serious Accidents Happened On Idaho Roads Friday Including One Fatality
File Photo courtesy of Idaho State Police
Over the weekend, Idaho State Police responded to numerous vehicular accidents including 4 on Friday. One of the accidents Friday resulted in the death of a pedestrian.
Fatal Pedestrian Accident August 18th in Idaho
Friday evening around 7 PM, Idaho State Police responded to a vehicle vs pedestrian accident in Benewah County near US-95 and Desmet Road.
A 64-year-old male from Post Falls, Idaho was driving a semi-truck Northbound on US 95, when he struck a 34-year-old male pedestrian from Plummer Idaho. The pedestrian was in the northbound travel lane of US 95 when he was struck.

The roadway was blocked for approximately 3 and a half hours to allow emergency responders to assist those involved and investigate this incident.

The pedestrian was pronounced deceased on scene, and next of kin have been notified.
Idaho State Police continue to investigate the accident.
Idaho State Police also responded to a serious injury accident Friday night, just after 10. The accident happened in Canyon County on I-84 and involved 3 vehicles.
A 49-year-old male, of Nampa, was stopped eastbound Interstate 84 on the left shoulder, on a 1999 Yamaha XV160 motorcycle. A 25-year-old male, of Kuna, was traveling eastbound, in a 2016 Audi A6. A 39-year-old female, of Boise, was travelling eastbound in a 2021 Toyota RAV4.

The driver of the Audi side-swiped the Yamaha, then swerved to the right and impacted the Toyota. The Audi and Toyota came to rest on the right shoulder, and the Yamaha and driver came to rest on the left shoulder.

The driver of the Yamaha was transported by ground ambulance to a local hospital.

The drivers of the Audi and Toyota were not transported, and both were wearing seatbelts.
ISP is investigating the incident.
RELATED STORY: ISP Respond to Injury Accident in Swan Valley Friday
Shortly after the accident in Canyon County, around 10:44 PM, ISP responded to another injury accident on I-90 in Kootenai County. Impaired driving is believed to be a factor in the accident.
Investigating Troopers believe the driver of a Nissan Juke was traveling westbound on I-90, near milepost 35, at a high rate of speed when it collided with a Jeep Cherokee traveling westbound on I-90.

The Jeep was occupied by a 31-year-old female driver and a 29-year-old male passenger, both from Spokane, WA. The female was transported by air ambulance to an area hospital with life-threatening injuries and the male passenger was transported to an area hospital by ground ambulance. His injuries are believed to be non-life threatening.

The Nissan was driven by a 24-year-old male driver from Spokane, WA. The driver was arrested on probably cause for impaired driving and booked into the Kootenai County Jail.

Both directions of I-90 were blocked for approximately 3-hours to allow emergency responders to assist those involved, create a safe landing zone for the air ambulance, and investigate the crash.
Idaho State Police is investigating the accident.
Information from the Idaho State Police on all the above accidents can be found on the ISP blog page.
What Idahoans have to say about Spike in Traffic Deaths
Try not to spike out your coffee, lol
Bike Laws In Idaho
Drivers vs Cyclists. One of America's greatest rivalries. Two people who seem unable or unwilling to get along and co-exist. To ensure you are the best driver you can be, or the best biker you can be, regardless of where you fall on the issue, it's best that you know the rules of the road. Let's get to them.