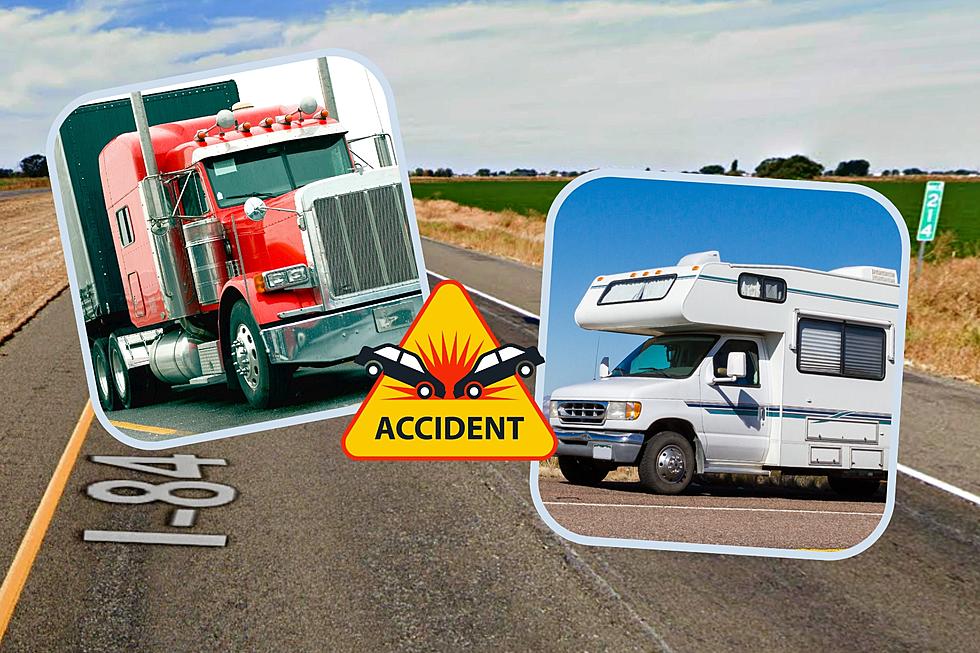 Accident: 2 Injured as Semi Truck Crashes into Motorhome Near Burley
Credit Canva
Monday afternoon, a semi-truck collided with a motorhome on Interstate 84 near Burley in Southern Idaho.
Information found in a news release from the Idaho State Police below:
Idaho State Police is investigating a vehicle collision which occurred on April 3, 2023, at 12:22 p.m., on westbound I84 at mile marker 214.9, in Minidoka County.
A semi-truck and trailer, driven by a 44-year-old man from Delta, CO, was traveling westbound on I84. The driver struck the rear of a motorhome, also traveling westbound, driven by a 53-year-old man from Long Beach, CA.
Both drivers were wearing their seatbelts, and both were transported by ground ambulance to a local hospital.
Mile marker 214 on I-84 is near the Meridian Road overpass between Burley Exit 211 and the Albion/Declo Exit 216.
RELATED STORY: 5 Tips For Driving Between Twin Falls and Salt Lake City
Driving in general can be difficult in Idaho, but driving a big rig is extra dangerous. But the danger isn't as imminent when you are driving that big rig around Twin Falls in a virtual video game. Some people like to spend their time pretending to drive trucks around the state in truck-driving simulators. The games are so realistic that you are even forced to sit at stoplights, just like in real life.
The coolest part of the truck-driving simulators is that they try to put you into actual places. There is at least one where you can drive the streets of Twin Falls, as seen in this video.
9 Deadliest Intersections In The Magic Valley
The deadliest intersection in Idaho isn't in any of the largely populated cities, it's in the small town of Jerome and it's one of the top 20 deadliest in the nation.
The Ridiculous True Stories of How Lions, Tigers, Bees, Alligators, Goats, Snakes and Beavers in Idaho Made National Headlines
We added to a list from
Only In Your State
about crazy things animals did in Idaho that made national headlines.