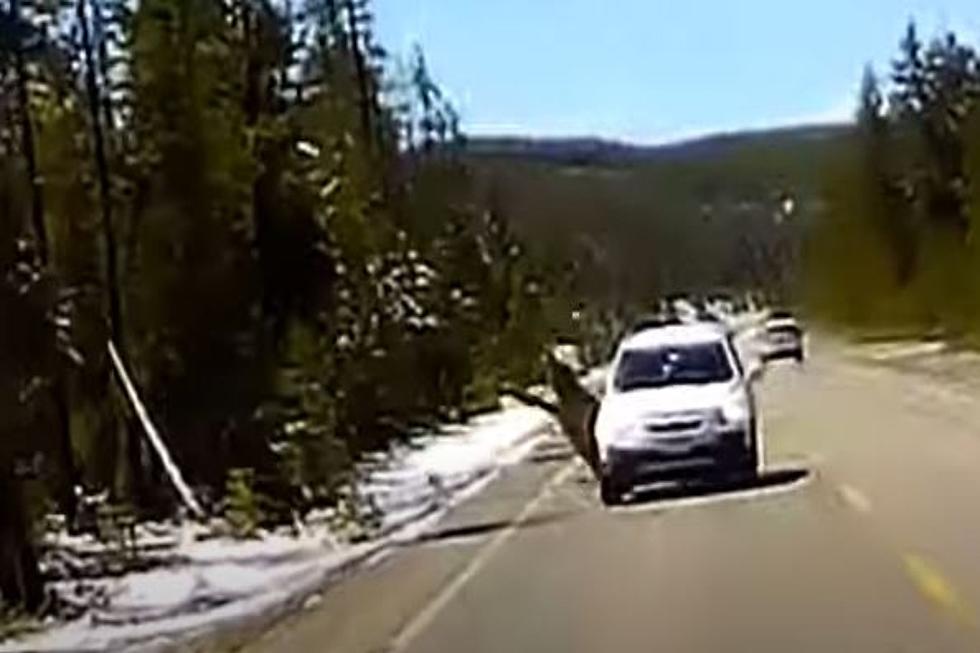 WATCH: Yellowstone Park Elk Chased By Wolf Slams Into Car
YouTube
Over the years, I've seen some amazing animal encounter videos in Yellowstone National Park shared by tourists. An incredible video from the park has emerged that shows an elk running into the side of an automobile after being chased into the roadway by a wolf.
Having had an encounter with a national park animal in my automobile years ago, I've experienced the same shock a motorist in Yellowstone National Park did that was recorded by another driver. The shocking YouTube post shows the motorist apparently driving at a safe speed when all of a sudden a large elk slams into the passenger side door.
A short time after the violent collision, what appears to be a wolf can be seen approaching the injured animal. It's obvious from the footage that the elk was attempting to flee from the predator.
Years ago while leaving Yosemite National Park, a bear lumbered into the road from behind a row of trees and impacted the passenger side of my vehicle. I was driving 25 miles per hour at the time, so the collision was relatively minor, and the bear was startled at best. I watched it walk back into the forest seemingly unharmed in my rearview mirror. The only evidence that the encounter even happened was the presence of some of the animal's hair stuck in my hub cap.
Be safe on the park roadways this summer, and remember to never drive faster than what the speed limit sign reads. Animals are everywhere, so you need to be aware of that when visiting national parks.
Tangled Elk
Golden Albino Rock Chuck in Snake River Canyon
Check out this rare albino rock chuck in Twin Falls.
Elk Vs Bear in Yellowstone